Contaduría Para Negocios Pequeños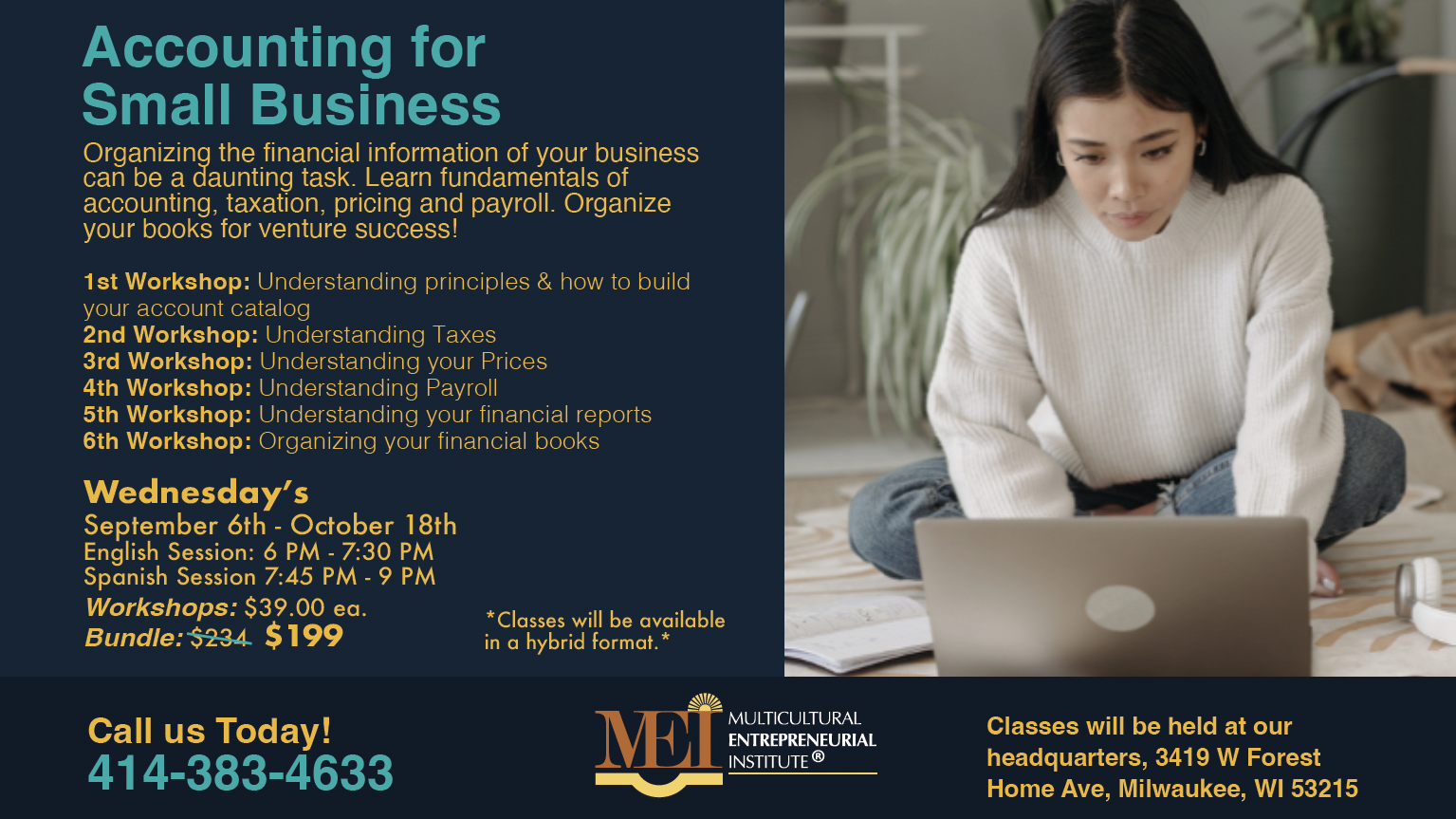 Conceptualize
This course focuses on providing a solid base of practical accounting principles and processes that a small business should put in place for success.
Participants will be introduced in how to organize their financial books, learn about taxes, payroll, financial reports, and much more. Participants will also be introduced to QuickBooks® which will reinforce the skills that each individual will learn throughout this class.
The final outcome of this course will result in each student developing the skills necessary to succeed in Financial Accounting.
Wednesday's
Start Date: September 6th, 2023
End Date: October 18th, 2023
English Session is from 6 PM – 7:30 PM.
Spanish Session is from 7:45 PM – 9 PM.
workshops
1- Understand principles and how to build your account catalog.
2- Understanding Taxes.
3- Understanding your prices.
4- Understanding payroll.
5- Understanding your financial reports.
6- Organizing your financial books.
Take Action
Call us at 414-383-4633!
Location:
3419 W Forest Home Ave, Milwaukee, WI 53215.
This course is offered in a hybrid format. Attend In-person or through Zoom.
Investment:
Workshops: $39.00 /ea.
Bundle: $199.00 
Instructor:
Nelson Soler, MBA. MS , EDFP, EA
To register call: (414) 383-4633
"Este curso fue crucial para entender como administrar las finanzas de mi negocio correctamente", dijo Leticia Muñoz, restaurantera.

"This course was crucial to understand how to manage my business finances correctly," said Leticia Muñoz, restaurateur.