Estimados y Propuestas para Contratistas – Estimating and Bidding for Contractors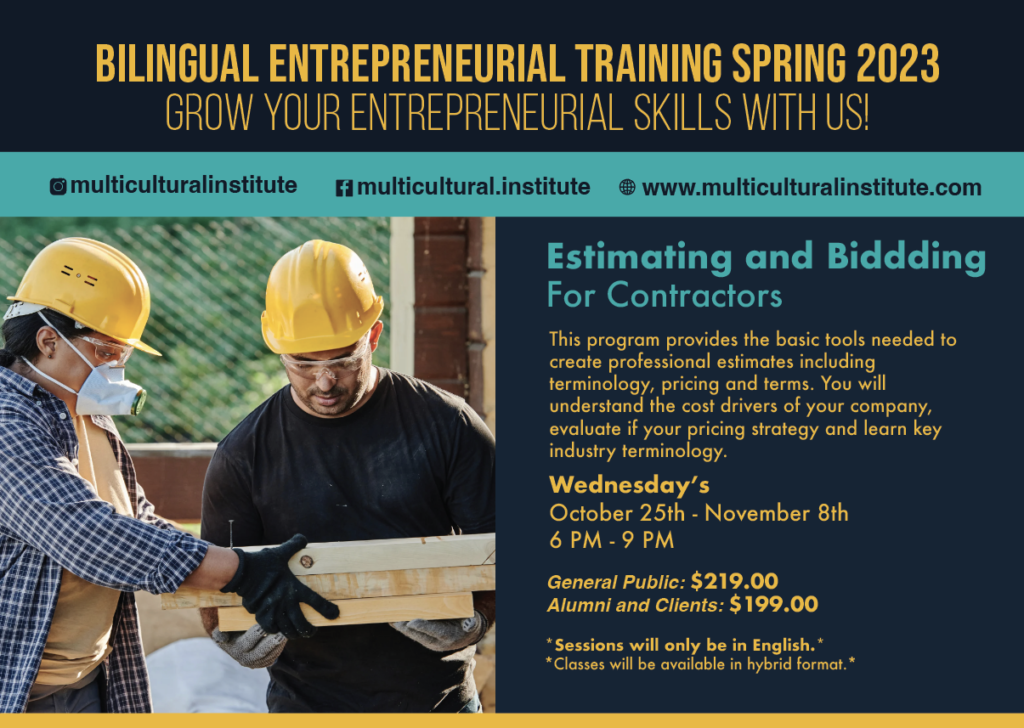 ENGLISH SESSIONS WILL BE HELD ON WEDNESDAYS. / LAS SESIONES EN INGLÉS TENDRÁN LUGAR LOS MIÉRCOLES.
 Conceptualize
Make practical proposals for your customers.
Estimate your costs based on cost drivers, overhead, and projection break-even.
Negotiate contracts and change orders with your clients. Evaluate and respond to government RFPs and BIDs (Basics)
English Session
Start Date: October 25th, 2023
End Date: November 8th, 2023
Every Wednesday, this session will be only in English from 6 PM – 8:30 PM.
Discover
How to make practical proposals for your clients
How to estimate costs based on cost factors, overheads, and break-even point
How to negotiate contracts and order changes with your client
Evaluate and respond to government RFP and offers (basic).
How to evaluate and respond to the BID's request for proposals
Take Action
Calls us at 414-383-4633 to Register!
Location
3419 W Forest Home Ave, Milwaukee, WI 53215.
Investment
General Public: $219
Alumni and Clients: $199
Instructor
Nelson Soler, MBA, MS, EDFP, EA
Estimados y Propuestas para Contratistas
Conceptualizar
Este curso le ayuda a:
– Hacer propuestas y cotizaciones efectivas para sus clientes
– Evaluar si esta cotizando correctamente
– Negociar sus contratos con argumentos validos
– Tener un contrato formal con términos de comercio
Descubra
• Cómo hacer propuestas efectivas a sus clientes
• Cómo estimar los gastos en función de los factores de gastos, los gastos generales y el umbral de rentabilidad.
• Cómo negociar contratos y cambios de pedido con su cliente
• Cómo evaluar y responder a la solicitud de propuestas y ofertas del gobierno (básico)
• Cómo evaluar y responder a la solicitud de propuestas del BID
Para más información, llame (414) 383-4633
For more information, call (414) 383-463