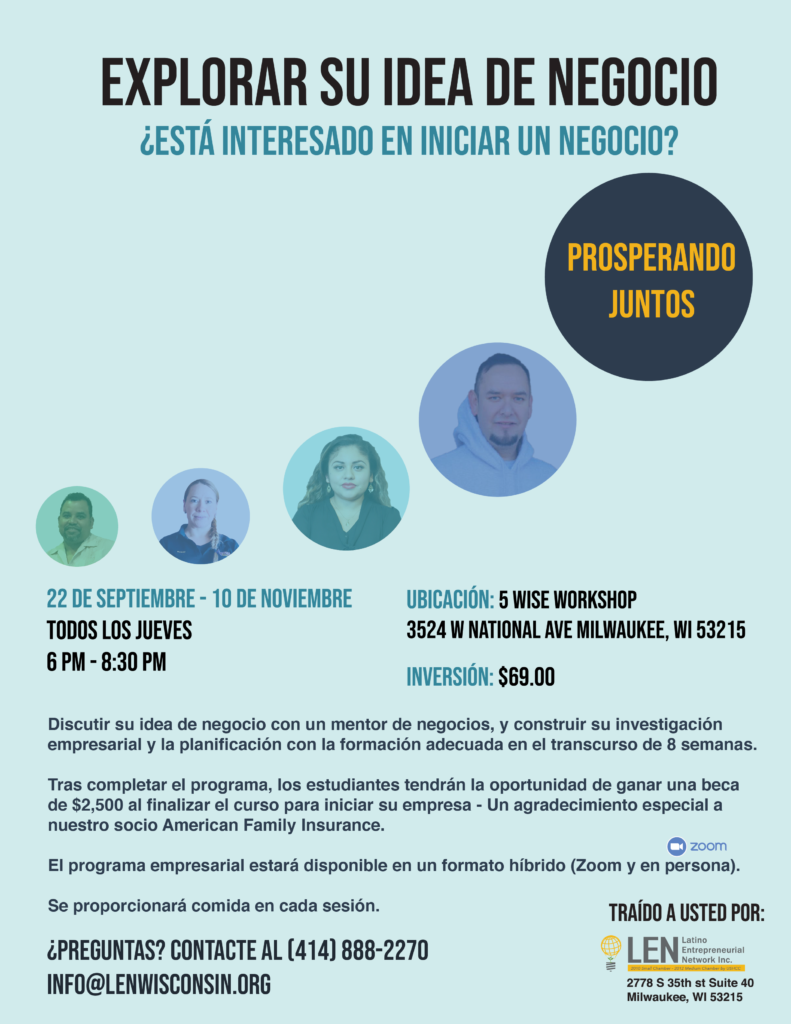 Are you interested in opening a business? But you have never owned a business before? / ¿Esta interesado en abrir un negocio? Pero, nunca ha tenido un negocio?
This course is for you, business training will help you prepare for your entrepreneurial journey with the right information. In this program you will learn to,
Evaluate your business idea
Understand legal and regulatory requirements
Identify clients and market your business
Develop a budget

Calculate your costs and evaluate your prices
The business training program will take place in a hybrid format (In Person and Zoom).
Este curso es para usted, el entrenamiento empresarial lo ayudara a preparse para su viaje empresarial con la información adecuada. En este programa aprendera a,
Evaluar su idea empresarial
Entender los requisitos regulatorios y legales
Identificar clientes y promocionar su negocio
Calcular y estimar sus costos y sus precios
El programa de entrenamiento empresarial, seran en formato hibrido (En Persona y Zoom).
Location / Ubicación
5 Wise Workshop
3524 W National Ave, Milwaukee, WI 53215
Investment / Inversión
$69.00 (Already including materials for the class) / (Incluyendo los materiales de la clase).
After completion of the program students will have the opportunity to win a $2,500 grant to start their enterprise.
Tras completar la clase los estudiantes tendran la oportunidad de ganar una beca de $2,500 para iniciar su empresa.
Take Action / Tome Acción
Every Thursday/ Cada Jueves
September 22nd – November 10th
6 PM – 8:30 PM
Call (414) 888-2270, or send an email to [email protected]
**Light Dinner will be served in each session.**
**Se ofrecerá comida en cada sesión."
Questions? Or to Register: Call (414) 888-2270